BLOG
Portland Metro Market Monthly Update - July 2021
July 16th, 2021
Time for another residential real estate market update! We'll talk local Portland metro, as well as taking an updated look at loan forbearance, inflation levels, and potential tax changes for real estate investors. 
Why This is Not Like 2008 Again
July 2nd, 2021

During the Great Recession, just over a decade ago, the financial systems the world depended on started to collapse. It created a panic that drove some large companies out of business (ex. Lehman Brothers) and many more into bankruptcy.
The financial crisis that accompanied the current pandemic caused hardship to certain industries and hurt many small businesses. However, it hasn't rattled the world economy. It seems that a year later, things are slowly getting back to normal for many companies.

Why is there a drastic difference between 2008 and now?
In a post from RealtyTrac, they explain:

"We changed the rules. We told banks they needed more reserves and that they could no longer underwrite toxic mortgages. It turns out that regulation — properly done — can help us navigate financial minefields."

Here are the results of that regulation, captured in a graph depicting the number of failed banks since 2007. 

What was different this time?
The post mentioned above explains:

"In 2008 the government saw the foreclosure meltdown as a top-down problem and set aside $700 billion for banks under the Troubled Asset Relief Program (TARP). Not all of the $700 billion was used, but the important point is that the government did not act with equal fervor to help flailing homeowners, millions of whom lost their homes to foreclosures and short sales.

This time around the government forcefully moved to help ordinary citizens. Working from the bottom-up, an estimated $5.3 trillion went to the public in 2020 through such mechanisms as the Paycheck Protection Program (PPP), expanded unemployment benefits, tax incentives, and help for local governments. So far this year we have the $1.9 billion American Rescue Plan with millions of $1,400 checks as well as proposals to spend trillions more on infrastructure…Bank deposits increased by nearly $2 trillion during the past year and credit card debt fell."

Bottom Line
Many have suffered over the past year. However, the economic toll of the current recession was nowhere near the scope of the Great Recession, and it won't result in a housing crisis.
Portland Metro Market Monthly Update - June 2021
June 18th, 2021
What's new in the market...and where are we headed? Let's look at current numbers and trends for the Portland, Oregon metro area and look ahead to see where the residential real estate market may be headed.
Some Buyers Prefer Smaller Homes 
June 4th, 2021
Over the past year, we've had plenty of opportunities to reflect on what we consider most important in our lives. The place we call home is one of the biggest things many of us are reevaluating. George Ratiu, Senior Economist at realtor.com, shares:

"The very nature of the pandemic, through the health implications, social distancing, and need to isolate, has really brought a central focus on the importance of home for most Americans…In a sense, it has elevated real estate markets as a centerpiece of our lives."
For some, this has spurred an interest in making a move to a home that better suits our changing needs. In a recent study on today's homebuyer preferences, the National Association of Home Builders (NAHB) states:

"When asked more specifically how the pandemic may have impacted their preference for home size…21% or about 1 out of every 5 buyers, do want a larger home now as a direct result of the health crisis, while another segment – 12% – would prefer a smaller one instead."
While you might expect more time at home to lead to a need for more space, it's interesting that a significant portion of homeowners actually want less. For those who own larger homes right now and have a desire to move, today's housing market is full of opportunities. Danielle Hale, Chief Economist at realtor.com, explains:
"In a real estate market that is tipped in the favor of sellers, boomers and older homeowners are really the ones holding the cards…Those who are selling homes can use the profits to help them buy new ones."

As a homeowner today, you likely have equity that can be put toward the purchase of your next home. With the equity growth homes have seen over the past year, you may have more than you think, which can help significantly as you make a move into your next home. According to a report from the National Association of Realtors (NAR):

"Home sellers cited that they sold their homes for a median of $66,000 more than they purchased it. Sellers 22 to 30 years gained the least at $33,400 in equity compared to sellers 66 to 74 years gained $100,000 in equity as they likely had lived in their homes for a longer period of time."

Despite the benefits of growing home equity, some homeowners are still hesitant to move and could be considering remodeling or making changes to their current space instead. However, if you've thought about aging in place rather than downsizing, you may want to reconsider. The U.S. Census Bureau points out:

"Of the nation's 115 million housing units, only 10% are ready to accommodate older populations."

If your house is no longer the best fit for your evolving needs, it may be time to put your equity to work for you and downsize to the home you really want.
Bottom Line

Today's housing market favors homeowners who are ready to sell their houses and make a move. If you're thinking about downsizing this year, let's connect to discuss your options in our local market.
Are Interest Rates Expected to Rise Over the Next Year? 
May 28th, 2021
So far this year, mortgage rates continue to hover around 3%, encouraging many hopeful homebuyers to enter the housing market. However, there's a good chance rates will increase later this year and going into 2022, ultimately making it more expensive to borrow money for a home loan. Here's a look at what several experts have to say.
Danielle Hale, Chief Economist, realtor.com:
"Our long-term view for mortgage rates in 2021 is higher. As the economic outlook strengthens, thanks to progress against coronavirus and vaccines plus a dose of stimulus from the government, this pushes up expectations for economic growth . . . ."

Lawrence Yun, Chief Economist, National Association of Realtors (NAR):
"In 2021, I think rates will be similar or modestly higher . . . mortgage rates will continue to be historically favorable."

Freddie Mac:
"We forecast that mortgage rates will continue to rise through the end of next year. We estimate the 30-year fixed mortgage rate will average 3.4% in the fourth quarter of 2021, rising to 3.8% in the fourth quarter of 2022."

Below are the most recent mortgage rate forecasts from four top authorities – Freddie Mac, Fannie Mae, the Mortgage Bankers Association (MBA), and NAR. 
Bottom Line
If you're planning to buy a home, purchasing before mortgage interest rates rise may help you save significantly over the life of your home loan.
4 Tips to Maximize the Sale of Your House
May 14th, 2021
Homeowners ready to make a move are definitely in a great position to sell today. Housing inventory is incredibly low, driving up buyer competition. This gives homeowners leverage to sell for the best possible terms, and it's fueling a steady rise in home prices.
In such a hot market, houses are selling quickly. According to the National Association of Realtors (NAR), homes are typically on the market for just 18 short days. Despite the speed and opportunity for sellers, there are still steps you can take to prep your house to shine so you get the greatest possible return.

1. Make Buyers Feel at Home
One of the ways to make this happen is to take time to declutter. Pack away any personal items like pictures, awards, and sentimental belongings. The more neutral and tidy the space, the easier it is for a buyer to picture themselves living there. According to the 2021 Profile of Home Staging by NAR:

"82% of buyers' agents said staging a home made it easier for a buyer to visualize the property as a future home."

Not only will your house potentially attract the attention of more buyers and likely sell quickly, but the same report also notes:

"Eighteen percent of sellers' agents said home staging increased the dollar value of a residence between 6% and 10%."

As Jessica Lautz, Vice President of Demographics and Behavior Insights for NAR, says:

"Staging a home helps consumers see the full potential of a given space or property…It features the home in its best light and helps would-be buyers envision its various possibilities."

2. Keep It Clean
On top of making an effort to declutter, it's important to keep your house neat and clean. Before a buyer stops by, be sure to pick up toys, make the beds, and wash the dishes. This is one more way to reduce the number of things that can distract a buyer from the appeal of the home.

Ensure your home smells fresh and clean as well. Buyers will remember the smell of your house, and according to the same report from NAR, the kitchen is one of the most important rooms of the house to focus on if you want to attract more buyers.

3. Give Buyers Access
Buyers are less likely to make an offer on your house if they aren't able to easily schedule a time to check it out. If your home is available anytime, that opens up more opportunities for multiple buyers to go from curious to eager. It also allows buyers on tight schedules to still get in to see your house.

While health continues to be a great concern throughout the country, it's important to work with your agent to find the best safety measures and digital practices for your listing. This will drive visibility and create access options that also keep everyone in the process safe.

4. Price It Right
Even in a sellers' market, it's crucial to set your house at the right price to maximize selling potential. Pricing your house too high is actually a detriment to the sale. The goal is to drive high attention from competing buyers and let bidding wars push the final sales price up.

Work with your trusted real estate professional to determine the best list price for your house. Having an expert on your side in this process is truly essential.

Bottom Line
If you want to sell on your terms, in the least amount of time, and for the best price, today's market sets the stage to make that happen. Let's connect today to determine the best ways to maximize the sale of your house this year.



4 Big Incentives for Homeowners to Sell Now!
May 7th, 2021
The housing market keeps sailing along. The only headwind that could take it off course is the lack of inventory for sale. The National Association of Realtors (NAR) reports that there were 410,000 fewer single-family homes for sale this March than in March of 2020. The key to continued success in the residential housing market is for more listings to come on the market. However, many homeowners are concerned that selling their homes could be challenging for several reasons.

Recently, Homes.com released the findings of a survey that identified these concerns, as well as what it will take for homeowners to feel comfortable selling their houses. Here are the four major homeowner concerns and a quick explanation of what's actually happening in the housing market today.

1. Homeowners don't know if they'll be able to secure their next home before selling.
In negotiations, leverage is the power that one side may have to influence the other side while moving closer to their negotiating position. A party's leverage is based on the ability to award benefits or eliminate costs on the other side.

In today's market, buyers have compelling reasons to purchase a home now:

To own a home of their own
To buy before prices continue to appreciate
To secure a mortgage at a historically low rate, while they last
These buyer needs give the seller tremendous leverage. Most already realize this leverage enables the homeowner to sell at a good price. However, this leverage may also be used to negotiate time to find their next home. The homeowner could sell their home to the buyer at today's price, which will enable the purchaser to take advantage of current mortgage rates. In return, the buyer might lease the house back to the seller for a pre-determined length of time while the seller finds a new home or has one built.

This gives the buyer what they want while also giving the seller what they need. It's a true win-win negotiation.

2. Homeowners don't know if their current home will sell for the asking price or top market price.
This is the perfect time to maximize profits while selling a house. NAR just released a study showing that bidding wars are at an all-time high. The study reveals that when comparing the first quarter of last year to the first quarter of this year, the number of offers on homes for sale doubled from an average of 2.4 to 4.8 offers.

Whenever there's a bidding war, the price of the item for sale escalates. Bloomberg recently reported:

"For the first time ever, the average U.S. home is selling for above its list price."

If a seller is looking for a top-dollar sale, there's no better time to sell than right now.

3. Homeowners don't know if they will get an offer without their home requiring work or updates.
Again, leverage is the greatest strength a seller has in this market. Due to the lack of homes for sale, many buyers are more willing to take on home improvement projects themselves in order to get the home they're after.

A recent post on whether or not to renovate before selling notes:

"It may be wise to let future homeowners remodel the bathroom or the kitchen to make design decisions that are best for their specific taste and lifestyle. As a seller, your dollars and time might be better spent working on small cosmetic updates, like refreshing some paint and power washing the exterior. Instead of over-investing in your home with upgrades that the buyers may change anyway, work with a real estate professional to determine the key projects that will maximize your listing, without overdoing it."

If a seller is worried about doing work or updates on their home, they must realize that today's historically low inventory likely renders these projects less critical to the sale of the house.

4. Homeowners don't know if they can have a quick closing process.
When speed is important, there are two points sellers should look at:

The time it takes to find a buyer for the home
The time it takes to close the transaction
In the latest Existing Home Sales Report, NAR explains:

"Properties typically remained on the market for 18 days in March, down from 20 days in February and from 29 days in March 2020. Eighty-three percent of the homes sold in March 2021 were on the market for less than a month."

Eighteen days is fast, and it's a new record. Here are the days the average house is on the market in each state:
Regarding the time it will take to close the transaction, all-cash sales accounted for 23% of all home purchase transactions in March. All-cash sales can usually be closed in thirty days.

If a mortgage is necessary, the most recent Origination Insight Report from Ellie Mae shows:

"Time to close all loans decreased in March. The average time to close a purchase fell to 51 days, down from 53 the month prior."

If you're looking for a quick closing process, there's never been a market in which the two-step process (finding a buyer and closing the deal) has taken less time.

Bottom Line
Selling your house can be daunting, especially in a fast-paced market. However, the fact that we're in such a strong sellers' market clearly eliminates many common concerns. Let's connect today so you can learn more about the opportunities for homeowners who are ready to sell.
Is Home Price Appreciation Accelerating Again?
April 30th, 2021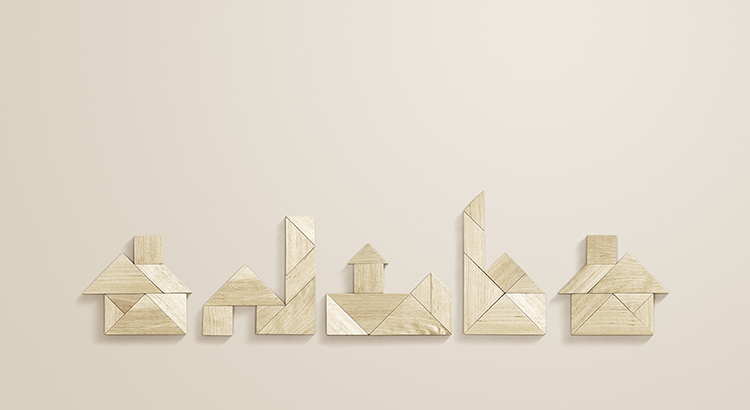 At the beginning of the year, industry forecasts called for home price appreciation to slow to about half of the double-digit increase we saw last year. The thinking was that inventory would increase from record-low levels and put an end to the bidding wars that have driven home prices up over the past twelve months. However, that increase in inventory has yet to materialize. The National Association of Realtors (NAR) reports that there are currently 410,000 fewer single-family homes available for sale than there were at this time last year.
This has forced those who made appreciation forecasts this past January to amend those projections. The Mortgage Bankers Association, Fannie Mae, Freddie Mac, the National Association of Realtors, and Zelman & Associates have all adjusted their numbers upward after reviewing first quarter housing data. Here are their original forecasts and their newly updated projections:      Even with the increases, the updated projections still don't reach the above 10% appreciation levels of 2020. However, a jump in the average projection from 5.3% to 7.7% after just one quarter is substantial. Demand will remain strong, so future appreciation will be determined by how quickly listing inventory makes its way to the market.
Bottom Line
Entering 2021, there was some speculation that we might see price appreciation slow dramatically this year. Today, experts believe that won't be the case. Home values will remain strong throughout the year.


Homeownership Is Full of Financial Benefits
April 23rd, 2021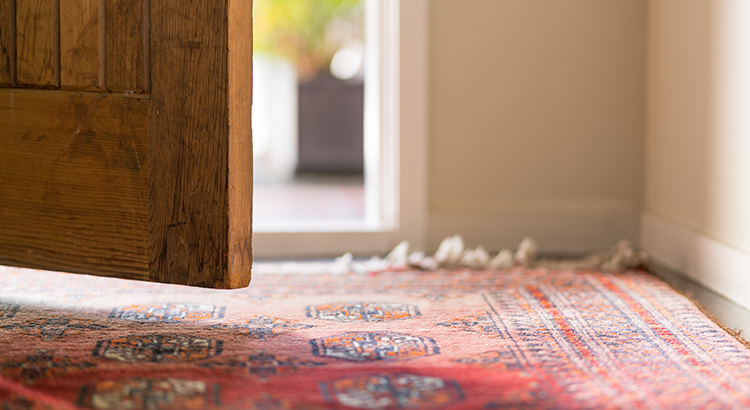 A Fannie Mae survey recently revealed some of the most highly-rated benefits of homeownership, which continue to be key drivers in today's power-packed housing market. Here are the top four financial benefits of owning a home according to consumer respondents:

88% - a better chance of saving for retirement
87% - the best investment plan
85% - the chance to be better off financially
85% - the chance to build up wealth
Additional financial advantages of homeownership included in the survey are having the best overall tax situation and being able to live within your budget.
Does homeownership actually give you a better chance to build wealth?
No one can question a person's unique feelings about the importance of homeownership. However, it's fair to ask if the numbers justify homeownership as a financial asset.
Last fall, the Federal Reserve released the Survey of Consumer Finances, a report done every three years, with the latest edition covering through 2019. Their findings confirmed that homeownership is a clear financial benefit. The survey found that homeowners have forty times higher net worth than renters($255,000 for homeowners compared to $6,300 for renters).
The difference in net worth between homeowners and renters has continued to grow. Here's a graph showing the results of the last four Fed surveys: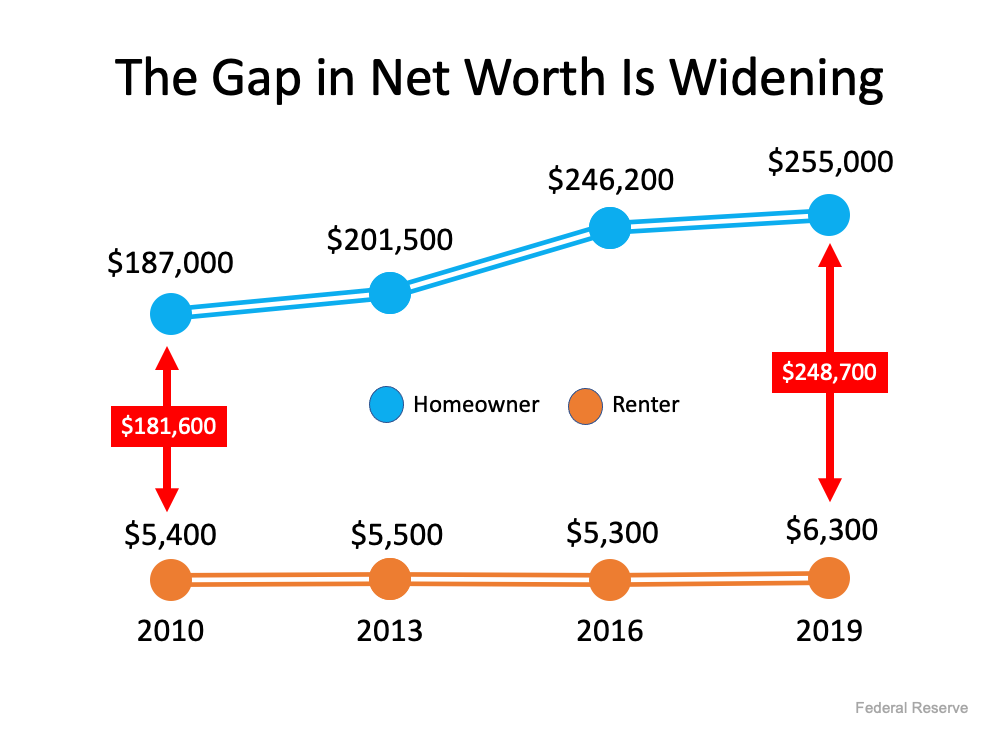 The above graph only includes data through 2019, but according to CoreLogic, the equity held by homeowners grew by $26,300 over the last twelve months alone. That means the gap between the net worth of homeowners and renters has probably widened even further over the last year.
Some might argue the difference in net worth may be due to homeowners normally having larger incomes than renters and therefore the ability to save more money. However, a study by First American shows homeowners have greater net worth than renters regardless of their income level. Here are the findings: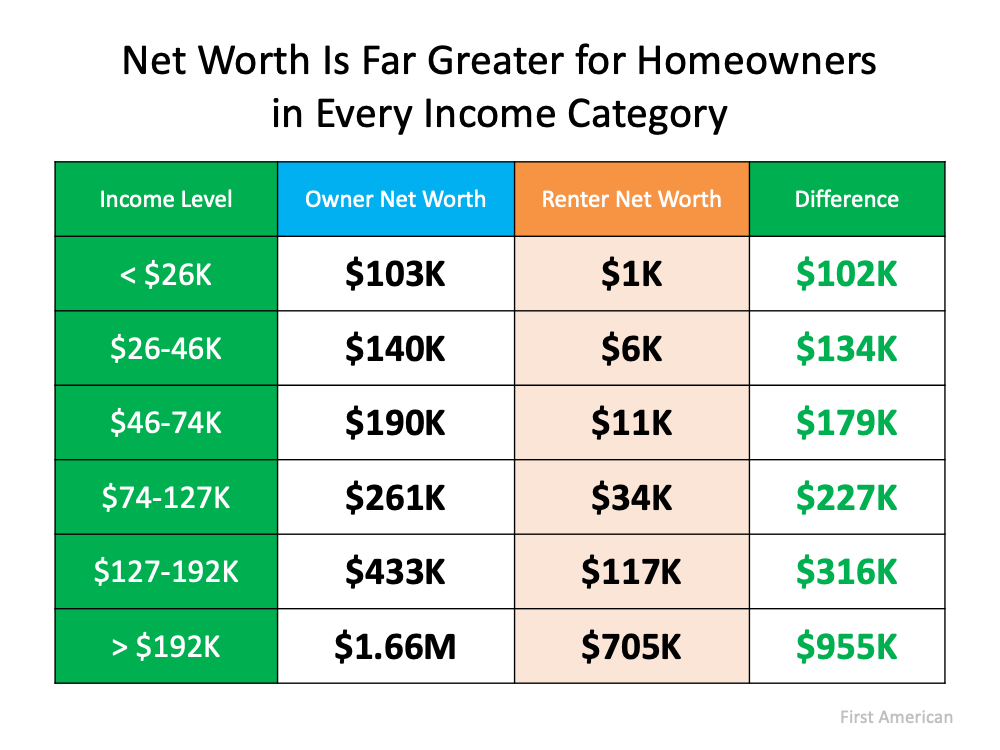 Others may think homeowners are older and that's why they have a greater net worth. However, a Joint Center for Housing Studies of Harvard University report on homeowners and renters over the age of 65 reveals:
"The ability to build equity puts homeowners far ahead of renters in terms of household wealth…the median owner age 65 and over had home equity of $143,500 and net wealth of $319,200. By comparison, the net wealth of the same-age renter was just $6,700."
Homeowners 65 and older have 47.6 times greater net worth than renters.
Bottom Line
The idea of homeownership as a direct way to build your net worth has met the test of time. Let's connect if you're ready to take steps toward becoming a homeowner.


Real Estate Market Update for the Month of April
April 16th, 2021
April 2021 residential real estate market update for Portland, Oregon and the metro area. This month we'll also discuss some "hot topics" of concerns...a market bubble? Prices out of control? All the "looming" foreclosures with mortgage forbearance ending (at some point)? We'll dig deep into some of these thoughts and look at the data to try to find answers to these issues.
Though I do not have a crystal ball, however the facts and figures don't lie. Keep on reading as we take a look into various reports that are a great indicator of what to expect in the coming months within the Portland metro real estate market.
Looking at the residential highlights, the RMLS reports that new listings on the market have decreased 0.1% from March 2020 and increased 40.1% from February of 2021. 
Pending sales increased 42.6% from March of 2020 and increased 51.5% of offers accepted in February of 2021. 
Closed sales slightly increased from 8.5% in February of 2020 and shot up to 29.2% since January of 2021. 
Inventory levels are at .8 months through the month of March and the total market time decreased to 37 days. 
Comparing 2021 to 2020, the average sales price has increased by 16.6% from $461,600 to $538,200. According to this report the median sales price has also increased around 14.9% from $415,000 to $477,00. 
If you are ready to purchase a home be prepared to offer above asking and to jump quick! Headlines infer that interest rates will go up however Fannie Mae & Freddie Mac indicate that interest rates are so far staying relatively steady! 
To read the full market report provided by the RLMS publication check out my Facebook page! And of course, if you have any questions don't hesitate to reach out! 


Your Tax Refund and Stimulus Savings May Help You Achieve Homeownership This Year!
April 9th, 2021
If you're planning to buy a home this year, saving for a down payment is one of the most important steps in the process. One of the best ways to jumpstart your savings is by starting with the help of your tax refund.
Using data from the Internal Revenue Service (IRS), it's estimated that Americans can expect an average refund of $2,925 when filing their taxes this year. The map below shows the average anticipated tax refund by state:
Thanks to programs from the Federal Housing Authority, Freddie Mac, and Fannie Mae, many first-time buyers can purchase a home with as little as 3% down. In addition, Veterans Affairs Loans allow many veterans to put 0% down. You may have heard the common myth that you need to put 20% down when you buy a home, but thankfully for most homebuyers, a 20% down payment isn't actually required. It's important to work with your real estate professional and your lender to understand all of your options.
How Can Your Tax Refund Help?
If you're a first-time buyer, your tax refund may cover more of a down payment than you realize.
If you take into account the median home sale price by state, the map below shows the percentage of a 3% down payment that's covered by the average anticipated tax refund:
The darker the blue, the closer your tax refund gets you to homeownership when you qualify for one of the low down payment programs. Maybe this is the year to plan ahead and put your tax refund toward the down payment on a home.
Not Enough Money From Your Tax Return? 
A recent paper from the National Bureau of Economic Research found that, of the households that received a stimulus check last year, "One third report that they primarily saved the stimulus money." If you had the opportunity to save your Economic Impact Payments, you may consider putting that money toward your down payment or closing costs as well. Your trusted real estate professional can also advise you on the down payment assistance programs available in your area.
Bottom Line
Saving for a down payment can seem like a daunting task, but it doesn't have to be. This year, your tax refund and your stimulus savings could add up big when it comes to reaching your homeownership goals.

Thank you to MYKCM.COM for providing this informative blog post.
Single-Family or Multi-Family Which One is Better For Your?
April 2nd, 2021
As a real estate agent and long time investor, I often get asked which is better single family or multi-family for rental properties? The answer : It depends.
Whether you are a rookie, looking for your first real estate investment or a well seasoned investor game planning for your next deal, the right answer is completely dependent on your own individual goals, experience level and financial position. 
Although I can't provide you with a complete comprehensive analysis of which type of property would be ideal for you, I can provide you with a breakdown of both the pros and cons of each property investment.

Single Family
Single - Family rental property, known as SFR, is a residential property with one rent-able unit. There are many benefits with investing in a single family property, especially if you are just starting your investment journey.

Pros

More Affordable
From a financial standpoint, single family homes are a more tangible purchase. To buy a single unit property, requires fair less capital and smaller down payment than a multi-family home. This financial flexibility is definitely appealing to those who have less money to put down, or desire to pay in full!

There are also tax advantages to purchasing a SFR! According to a Bigger Pocket article, "residential rental properties are the single most-tax-advantaged asset class in the tax system. Writing off five separate properties on your taxes can be freakishly beneficial to your bank account".

Resale Opportunity
Year-over-year the demand for single family homes on the real estate market has dramatically increased! According to one report over "five million homes sold in an average year". The high demand creates a prime resale opportunity. Not to mention the long-term appreciation of a home, come time to sell, can be a bit advantage when you decide to put the rental on the market!

According to an article from Bigger Pockets "SFR's will almost always appreciate more than MFRs." It's important to note that values might not appreciate equally across your prospective area. Make sure to keep an eye out on which neighborhoods are growing and appreciating - that will be your target area!

Less Turnover
Since single-family rental usually attracts a family, it's less likely that there will be year-over-year rental turnover. Single Family homes, provide families with the opportunity to have their own individual space, develop relationships with their neighbors, and settle into school districts are ll important aspects of a single family rental that will cause your renters to call your property home for the long(er) term.

Cons

For a single-family rental purchase there are a long of positives, however there are also some risk that you should be prepared and well-equipped for.

Less cash-flow
Single-Family rental properties are single unit residences of which will only house one set of people. Because of the limited cash-flow from a single-family rental property this might put you in a sticky position if the tenants do not pay their rent. You'll end up footing the cost for the entire mortgage.

Difficult to Scale
From an investor portfolio perspective, a single-family home can be difficult if they are underperforming. If the ROI is underperforming, you might need to consider selling the low-performing property to help optimize your portfolio. Overall, the cash flow of one single-family rental property is not strong on it's own and if you want to elevate your portfolio you will probably need to consider purchasing multiple single family homes to have adequate profit flowing in.

Multi Family

Multi- Family rental property, known as MFR, is a property with multiple rent-able units. Do keep in mind that a property with more than four rental units is considered to be a commercial property. Commercial properties are financed quite differently than residential units. Although multi-family rentals can seem intimidating at first there are many benefits to including a multi-family property in your investment portfolio.

Pros

Scalability
Once you choose to take that leap and purchase a multifamily property, you instantly have a real estate portfolio! The fact that you would then have more units in your back pocket means more cash flow than a one unit property. According to a Bigger Pockets article "Apartment buildings typically have a lower cost per door, property management is typically more effective and profitable and any improvements made can help to lift the value of many units, not just one".

More Cash Flow
With having a multi-unit rental property, the risk of a  potential vacancy keeps you in a better position financially then if you have a vacancy from a single unit home. With having multi-doors, you receive multi- streams of income leveraging your financial position if there were to be an extended vacancy in one of your units.

Another cash-flow benefit is maintenance expenses are often lower "because similar amounts of materials and labor can cover more at once".
Even more, multi-family properties are valued by their net income, not comparable sales like a single unit property. Not only do investors have the ability to adjust rent but also the efficiency of operational management like utilities.


House Hacking Opportunities
A major perk of having a multi-family rental property is that you can choose to live there too. If you choose to live on one side of your new duplex or triplex, you have the opportunity to cut your own housing expenses and also act as the onsite property manager, which can save you more money since you won't have to hire someone to manage the rental property/building.

Cons

Although there are many benefits to a multi-family investment property, you should be prepared for some of the issues that might arise.

Financing
To be in a position to purchase a multi-unit rental property can be a little challenging, especially if this is your first rental property. Multifamily properties may require more capital to purchase. Make sure that you talk with your local lender on various loan solutions and mortgage products they can offer.

Tenant Screening
With multi-family rental properties, you're more likely to see frequent turnover than a single-unit property. This being said, if you do not carefully and properly screen your potential tenants you could end up having someone live in one of your units that can't afford the rent. Having an excellent and quality screening process can help you avoid more turnover, fees and other vacancy expenses down the road.

Management and Operations
With a larger unit requires more diligence and systems to properly manage the property. It is prudent to make sure you have your real estate systems in place before you tackle such a large investment. If your day-to-day life doesn't allow you to manage the regular management of a multi-family rental property you may want to outsource these tasks to a property management company, though this can become costly so you will want to make sure to weigh out your options.

Resale Options
Usually only real estate investors are interested in multi-family rental properties. So, if and when you choose to resale your multi-unit property your pool of potential buyers may be limited. Not to mention, investors are looking for a business deal and it's unlikely they will settle for over-asking.

When it comes down to it, both single-family or multi-family rental properties are both great options for rentals. However, if you are looking for your first real estate investment, I would encourage you to look at single-family homes to get your start on your investment portfolio. For rookies, single-family homes are overall lower risk and offer an easier exit-strategy if you find that real estate investing is not for you.

That being said, higher-risk equals higher-reward. Multi-family units are known to be the bigger player in beefing up your real estate portfolio. I would encourage you to consult your fellow investors, real estate agent and mortgage lender to strategize what would be the best fit for you!

Buyer & Seller Perks in Today's Market 
March 26th, 2021

Right now, the housing market is full of outstanding opportunities for both buyers and sellers. Whether you're thinking of buying your first home, moving up to a bigger one, or selling so you can downsize this spring, there are perks today that are powering big moves for people across the country. Here are the top two to keep on the radar this season.

The Biggest Perk for Buyers: Low Mortgage Rates
 Today's most compelling buyer incentive is low mortgage interest rates. The 30-year fixed-rate is now averaging just over 3%. While that's slightly higher than the record-lows from 2020 and earlier this year, it's still way lower than historic norms, making purchasing a home an ongoing perk for hopeful buyers (See graph below):
Buyer & Seller Perks in Today's Housing Market | MyKCMThis is a huge advantage for buyers and helps to make owning a home attainable for more households – and there's good reason to strive for homeownership. The latest Homeowner Equity Report from CoreLogic shows how homeowners saw major gains in their net worth last year, all thanks to owning a home. Frank Martell, President and CEO of CoreLogic, explains:

"Positive factors like record-low interest rates and a booming housing market encouraged many families to enter homeownership. This growing bank of personal wealth that homeownership affords was noticed by many but in particular for first-time buyers who want a piece of the cake. As a result, we may see more of those currently renting start to enter the market in the near future."

Low mortgage rates are a plus for buyers right now, but experts forecast we'll see them continue to rise as the year goes on. If you're ready to purchase a home, it's wise to get started on the process soon so you can secure today's comparatively low rate.

The Biggest Perk for Sellers: Low Inventory
Today, there are simply not enough houses on the market for the number of buyers looking to purchase them, and it's creating a serious sellers' market. According to Danielle Hale, Chief Economist at realtor.com:

"Total active inventory continues to decline, dropping 50 percent. With buyers active in the market and sellers still slow to put homes up for sale, homes are selling quickly and the total number actively available for sale at any point in time continues to decline." (See map below):
Buyer & Seller Perks in Today's Housing Market | MyKCMThe lack of houses for sale continues to challenge the market, and with low mortgage rates fueling buyer demand, homes are hard for buyers to find today. According to the latest Realtors Confidence Index Survey by the National Association of Realtors (NAR), the average house is now receiving 4.1 offers and is on the market for only 20 days.

Buyers are clearly eager to purchase, and because of the shortage of inventory available, they're often entering bidding wars. This is one of the factors keeping home prices strong and giving sellers leverage in the negotiation process.

Homeowners who are in a position to sell shouldn't wait to make their move. There's a light at the end of the tunnel for today's inventory shortage, so listing this spring will get your house on the market when conditions are most favorable. With low inventory and high buyer demand, homeowners can potentially earn a greater profit on their houses and sell them quickly in the fast-paced spring market.

Bottom Line
Whether you're thinking about buying or selling a home, there are major perks available in today's housing market. Let's connect today to discuss how these favorable conditions play to your advantage in our local area.
Real Estate Market Update for the Month of March
March 19th, 2021
Around this time of year, one would expect for the real estate market to be in full bloom. However, in light of 2020 events, we are continuing to see abnormal fluctuations in our market, particularly in the Portland Metro Market. 
As a potential home buyer, buyer's agent, lender or builder, it might feel like it's a dog eat dog world. With inventory levels at extreme lows, interest rates steadily climbing and home values skyrocketing, the real estate industry is an incredibly competitive market. 
Let's take a deep drive into the RMLS publication of the latest real estate market numbers! 
Looking at the residential highlights, the RMLS reports that new listings on the market have decreased 10.3% from February 2020 and are down 4.1% from January of 2021. 
Pending sales also took a dive 15% since February of 2020 and decreased from 11.5% to 2.4% offers accepted in January of 2021. 
Closed sales slightly increased from 4.3% in February of 2020 and shot up to 7.1% since January of 2021. 
It's no surprise that inventory levels are still holding at 1.0 months through the month of February and the total market time decreased to 42 days. 
Just comparing 2021 to 2020, the average sales price has increased by 14.8% from $460,200 to $528,500. According to this report the median sales prices has also increased around 15.3% from $407,500 to $470,00. This is an insane increase in home equity values! 
If you have been paying attention to the bond markets the last couple of months, you might have noticed that bond yields are continuing to steadily trend upwards, which will directly affect the price in interest rates.
When it comes to new construction, headline news articles have also reported that home builder fees and lumber prices have significantly increased over the last year. The increase in building material costs will certainly cause a shift in the affordability of new construction homes. 
In other recent news, Fannie Mae and Freddie Mac just announced that they are pulling away from backing as many second home and rental property loans. Only 7% of loans sold back to Fannie Mae and Freddie Mac by mortgage lenders can be investment or second home loans. Mortgage Lenders are combating this by increasing interest rates and costs associated with investment and second home loans to keep them under the 7% threshold thrown at them by the government sponsored entities. This being said, there are many great Mortgage Lenders that do offer conventional and portfolio loan products, and competitive rates that might be well suited for your purchasing needs. 
With the combination of high demand, limited supply, and low interest rates, it makes this a very competitive market. So for those who were on the fence about purchasing a home in March of 2020 and neglected to take advantage of the 2020 spring market, it's possible that those potential buyers are no longer in a position to purchase a home. 
Although there are no current signs that interest rates or pricing will be coming down for quite a while, we must remain optimistic as we head into the Spring season. Traditionally, Spring is  the prime time for activity in the real estate market and the month of March, in particular, is where we tend to see new listings hit the market.   
We can spend so much time exhausting the numbers of the real estate market, but we have to keep an open mind. Today, the position of the real estate market is vastly different than it was a year ago, even 20 years ago. The interest rates of less than 3% are in the past and it is possible that they might never get that low again. Interest rates below 6-7% is still historically CHEAP money and should not deter you from your real estate goals. The selling market is HOT and hopefully with brighter days ahead, this will be an encouraging sign for sellers to list their homes and get more inventory out on the market! 
To read the full market report provided by the RLMS publication check out my Facebook page! And of course, if you have any questions don't hesitate to reach out! 
Wrapping Up 2020 
January 15th, 2021

As we leave 2020 behind us and we press forward into a new year, the housing market news has flooded the media with overly optimistic predictions from some intermixed with an opposing view of doom and gloom expressed by others. While we cannot fully predict what the year 2021 will bring, we do know the trends of the 2020 markets that will help prepare us for the coming months. 
As our nation is in the midst of Presidential transfer, the investor market does not seem to be overreacting to the changing of powers from the Trump administration to the Biden administration and many theorize that the economy will follow a similar pattern to the Obama administration of 2009-2017. 

The health crisis brought significant challenges that affected the housing market and caused consumers to reevaluate their current living space. Schools are online, kids and parents are at home, and everyone is desperate for more space! One major problem, inventory levels remain at rock bottom with less than 1 month of inventory in the Portland metro market. Some suspect that due to the increase in mortgage forbearance to 6%, many homeowners will not be able to sustain their mortgage payment, and will be forced to sell. This will stimulate an increase in inventory levels but in the same token decrease overall home values as more inventory floods the market. With historically low interest rates, extremely low inventory levels, and inflated growth in appreciation seen in 2020, many believe that 2021 will remain a seller's market. 

What about new construction? Well, new construction has been down in the Portland metro area since 2017 and due to the inflated prices of labor, materials, permits, deconstruction and rates, it's likely that new construction will continue to decline throughout 2021. 

While there is no all-seeing eye that forecasts an accurate depiction of what 2021 will bring, there is no doubt that buyers and sellers will be active this year. Some spots of the Portland Real Estate market remain red hot while others are at a standstill due to the low inventory. 
If you are ready to make a move, let's connect to layout your goals and financial picture. Based on your financial position, it might be the perfect time to find your dream home or next investment property.